How to enable Developer Tab in Excel 2010 (with Images)
Steps to Enable Developer Tab in Excel
What

is a Developer Tab:
This tab need to be accessed when we are developing or running macros using Visual Basic to use with Microsoft Office programs. In most of the cased by default this tab wont be enabled or added to the Excel Ribbon.
Why is it important:
This tab contains lots tools which are essentials when we are creating applications to use with Microsoft Office programs. For example to insert From Controls and ActiveX Controls while creating a macro.
How

to enable Developer Tab in Excel 2010:




Step 1 : Click on 'Options' from the 'File' tab.

Step 2: Click on 'Customize Ribbon' from categories pane and enable the 'Developer' tab from the Main Tabs list by clicking the Tick mark . And then click 'OK'.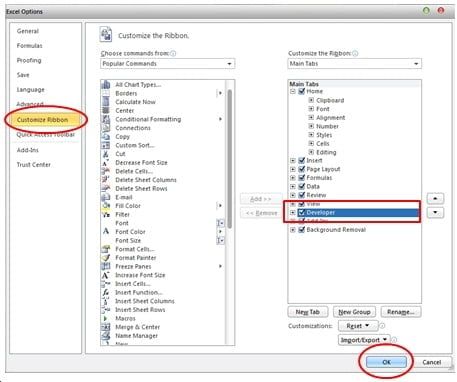 Pin
Once enabled it appears in the Excel Ribbon along with the other Excel menus options.