Tatvamasi Short Film Technical Specifications
What is Tatvamasi
Tatvamasi is a short film based on the reflections of a fictitious character. There is only one who can save you THAT IS YOU (thou art that). It is that moment you realize yourself. Light over the darkness.
Tatvamasi Short Film – Cast & Crew
Starring :Sumesh Puthamana, Unni Krishnan, Sandeep Sudakaran, Akhil Suresh,Umsree Saha
Music : Sejo John (Memories, My Boss, Mummy & Me etc.)
Film Editor : Rahul Dev Rajan
DOP : Ajay Kumar
Producers : Soumya Mukundhan, Unni Krishnan, Sumesh Puthamana
Written and Directed: Anson Antony
Tatvamasi Short Film – Technical Specifications
Camera: Canon EOS 7D
Editing: Apple Final Cut Pro X
Tatvamasi Short Film – Awards & Recognistions
Finalist in – Chaaya -13 National Short and Documentary Film Awards – 2013
Official Entry – Hole Entertainment Little Film Awards 2014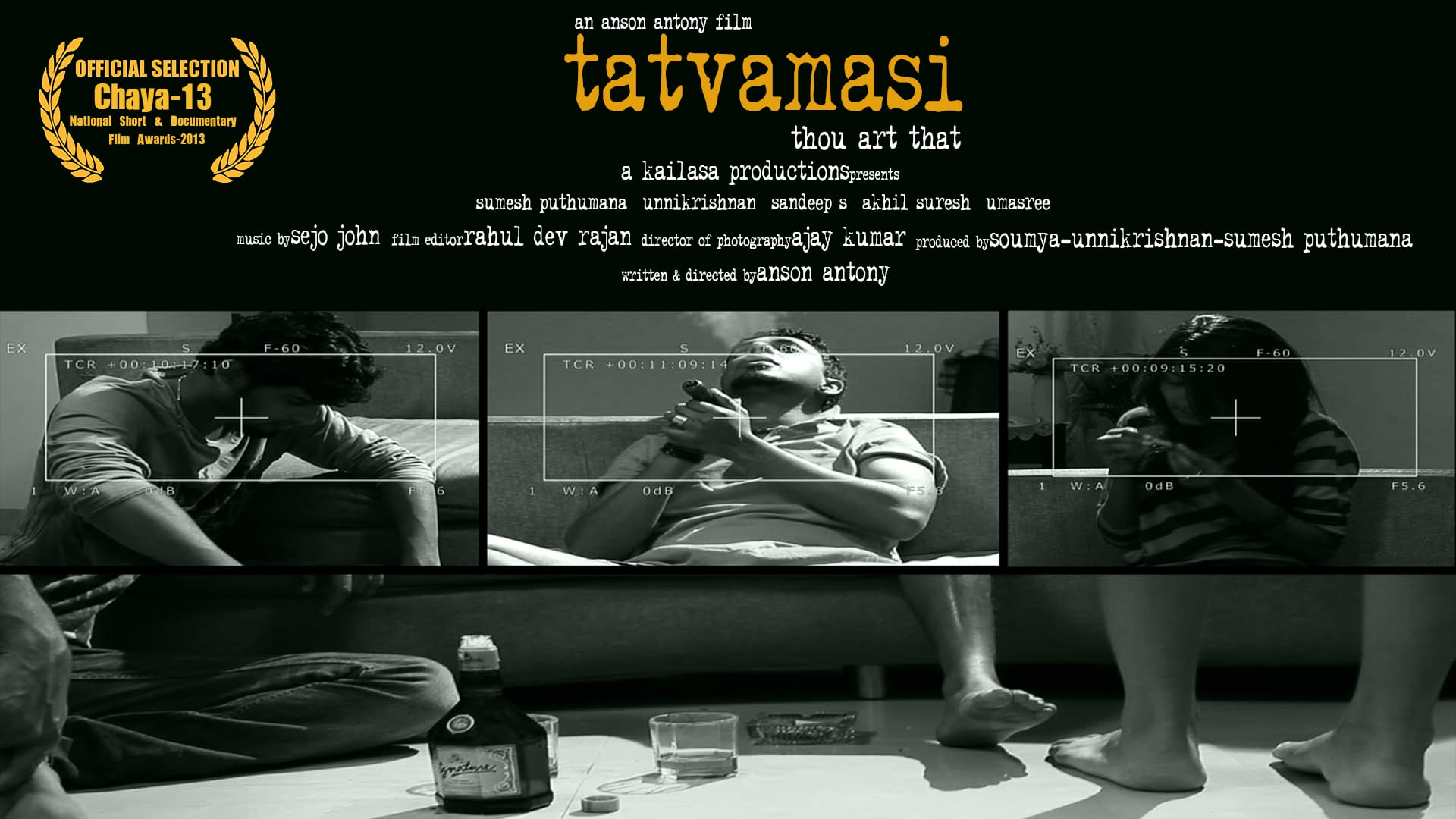 Pin
Tatvamasi (Tat Twam Asi = Thou art you.) a word of message from the Chandogya Upanishad 6.8.7, means "That is you" The diffusion of the word is Thath – Thwam – Asi.
'Tat' means 'That', 'Twam' means 'You', and 'Asi' means 'Is'.
What you see on the screen is the reflection of the existing! How does tatvamasi reflects in our movie???!!!!
Watch Tatvamasi on YouTube!