Freelance Work v/s Office Work (with Images and best freelance websites)
What

is Freelance work:

It's a kind of outsourcing the work to someone who is an expert in that particular area.

That means you can do freelancing in any field, say it photography, web designing, programming, writing etc. etc. the only thing is you should be an expert in whatever filed you are planning do freelance work. The expertise in a particular field increases opportunities of getting more work and can demand more money.


Why

Freelance work:

Unlike an employee in a company you don't have to follow any particular work schedule/shift timings , company polices, dress code, etc. It's all about the work you do matters and not how you do or where you do.

You work at you own convenience, you are your own boss there is no BOSS over you. You don't have to sacrifice you family or kids for your job. In-spite of having all these advantages you will miss all the benefits an employee enjoys from a company, because you are not an employee of any company.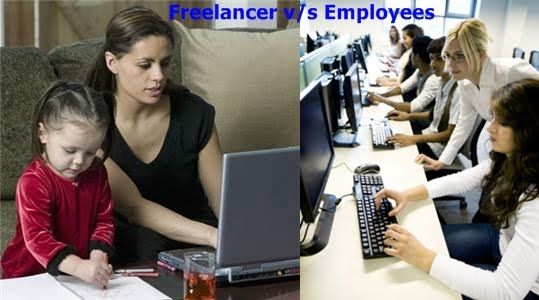 Pin
How

to start Freelance work:

Before starting you should know in which field you are an expert or in which particular field you want to specialize and become a freelancer. Either you can start as a part time freelancer or full-timer.

There are many websites which provides platform for people who search for freelance work and people who hire freelance workers.
List of Freelance Websites:
Below are some of the Best Freelance Websites where you can register for FREE:
3. Elance.com
5. Odesk.com
6. Liveperson.com
7. 99Designs.com
8. Crowdspring.com
9. Guru.com
10. Joomlancers.com
Most of the best freelance websites allow you to create a free account or a trial account to start off with your freelance career. Enhance your visibility among the freelancers by updating your detailed profile (Your skill sets, qualifications etc.).
Start with small projects and once you are confident enough you can go for a paid account and become a full-time freelance professional.
There is nothing wrong with trying it and don't wait for the right time to come, this is the right time.
Start off!! And you will learn rest of the things gradually. All the best!