How to browse without internet connection (with Image)
What is it:
It's a known fact that to browse the web internet connection is a must but Cosmos Mobile Browser is in a mission to change this formula.
Cosmos is a mobile browser based off of SMS. And makes it possible to browse without Internet Connection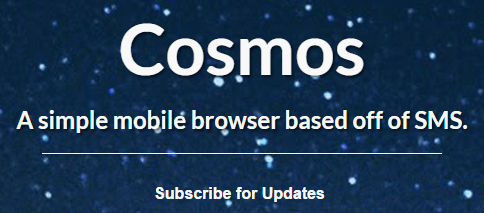 Pin
Why is it:
This is very useful in countries like India where Internet Coverage is very less and signal gets dropped out frequently.
How to browse without internet connection:
Users have to send the URL to be surfed using Cosmos Browser and browser sends this URL information as text message to the backend. In seconds user receives a text message with all the information in the requested web page/URL. This SMS comes in a compressed format which can be uncompressed with Cosmos Browser. Once uncompressed this displays the text and auto deletes the SMS so that message inbox will not be cluttered.



Note: This mobile application will be initially available only for Android users. Users will have to pay the standard SMS charge for the URL SMS they are sending. This might not work properly if DND (Do Not Disturb) is enabled in the number.