2 Break Alert Tool for a Balanced Digital Life (with Images)
I happened to see below troll on evolution of human being, i like the humor in it. Considering the new geeky generation that includes you and me, who spends hours together in-front of computer or smartphones. We get involved so much in the work and forget about the importance of Eye care which is very dangerous.
Troll link: http://bit.ly/2uwBI8L
It is very important to have a balanced digital life, I just want to introduce you to 2 break alert eye care app for pc. Why I want to introduce these 2 software because, there are two studies on eye care for people who uses computers.
20-20-20 Rule : Which says every 2o minutes we need to take an eye care break while working in-front of computer.
60-5 : This one is basically a mandatory 5 minutes break every 1 hr, its not only important for the eyes but for the entire body.
Below break alert tool will remind you about the eye care breaks to be taken.
What is it:
Break Alert Indicator 1: Awareness
Awareness is an Application developed by Futureproof run by David Siegel and Michael Highland.This application is an indicator that helps you become more aware of the time spent on computer. Awareness application will play the sound of a Tibetan singing bowl every hour of continuous computer use.
This is a simple yet powerful tool that reminds you to take a 5 minutes break after every continuous one hour of computer use.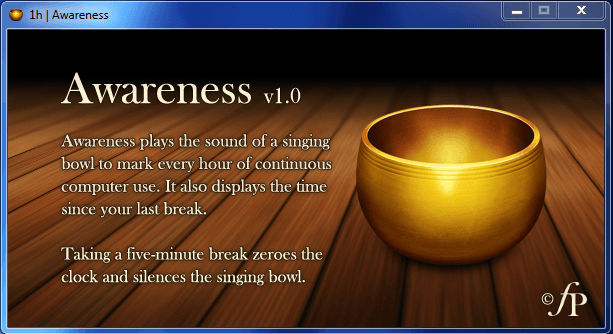 Pin
Why is it:
A quick break after a continuous one hour of computer usage help you avoid Musculoskeletal problems, vision problems, obesity, Headache etc.
A still posture reduces blood flow to the muscles and increases fatigue and can also lead to numbness and pain. So its a must you take periodic health breaks to move around and stretch yourself.
This Awareness Application will help you remind the periodic health breaks intervals.Though it wont nag you or force you to stop using the computer, its up to you whether take a health break or not!!!
How to:
Click here to download and install the Awareness App for FREE.

Break Alert tool 2: Protectyourvision – Your Eyes Need a Break




This a browser based application signalize you a break with a pop-up. Every time when break is needed you will see a notification in a right bottom corner of the screen. It also has a sound alarm option which can be turned off by switching off the speakers. Break reminder chrome, firefox, Safari 6 are available.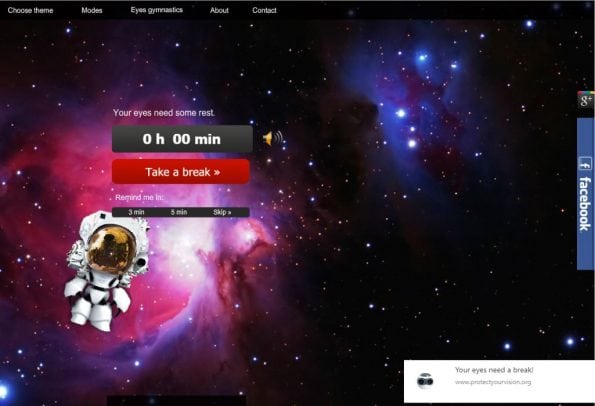 Pin
Once you click on the 'Take a break' your monitor goes blank for a 15 seconds and during that time you shouldn't be looking at the monitor after that it back to normal working.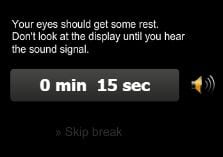 Pin
This application can be set to 3 different modes 20-20-20, 60-5 and Custom. One another important feature is Eye gymnastics which will reduce the eye's optical abnormalities by easing tension. Robo shows how to do the step by step eye gymnastics exercise to be followed. 🙂
Let me know which one you like the most in the comments section below and if you find any other break reminder software.
Also check 'Rescue Time' software for better managing your digital life.