25% Discount Free bigrock coupon code
What is it:
BigRock is one of the affordable Domain Registration and Web hosting company. If you are planning to register a domain and decided to go with BigRock then I have something for you.
You get up to 25% discount on domain names registering with BigRock using the coupon code that I'm going to provide.
Pin
Why is it important:
It's a personalized coupon provided to me by BigRock as I have my domain registered with BigRock. So its not a fake code that has been created to cheat people. The bigrock coupon code is nothing but my domain name itself, it's a kind of referral coupon hence 100% secure.
How to use my personalized bigrock coupon code for your domain Registration:
Step 1: Go to any web browser and enter the below link (below link itself is the bigrock coupon code)
http://www.bigrock.com/?coupon=askeygeek.com
Step 2: Enter the domain name you want to register

Pin
Step 3: Add it to the shopping cart and proceed to Checkout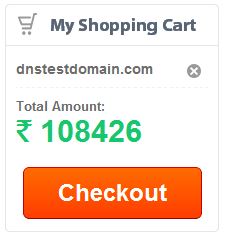 Pin
Step 4: You will see askeygeek.com discount has been deducted from the total domain cost.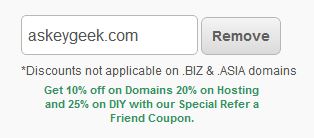 (Make sure you do not remove the askeygeek.com from discount)
Step 5: Now you can Proceed to Payment.