Article Spinning for Beginners – All You Need to Know
What is Article Spinning:
In simple words Article Spinning is an SEO (Search Engine Optimization) technique used by webmasters to get backlinks and generate traffic to their websites. If you are a webmaster you would know how important backlinks and traffic are.
What they do is they spin/tweak an original article by rearranging the words, phrases etc without changing the whole meaning of the article and put it in some Article Directories or publish it in their own website as a fresh content.
Why is Article Spinning Important:
In your own website: Posting these fresh article with important keywords can drive organic traffic to your websites.
In Article Directories: Posting these articles in article directories with adding your website link at the end of the article can provide backlink to your website and increase traffic and income.
How to do Article Spinning:
Two ways of doing article spinning

:

Hire a content writer

Or

Use Article Spinning Software

I would prefer the second option as hiring a content writer is an expensive stuff over a period of time as they usually charge for per article or for per word. But using a rewriting or an article spinning tool you can create multiple fresh contents from a single original content. This becomes very important when you want to put the same content in multiple article directories.

Below are 3 important things that need to be taken care before selecting an Article Spinning software.

Readability of the Article:

There are many article spinning software that simply rewrites or rephrases the sentences and words without keeping any logic or grammar which makes no sense and completely unreadable. Please make sure to avoid those type of software.

Proof Read the Articles:

Though all the article spinning software claims 100% readability but it is better to proof read the article created by them and see if that makes any sense.

Cost of the tool:

It is highly important to examine the cost, whether they are charging one-time fee, or a high monthly fee or per article fee etc. then compare it with the cost of hiring an actual real person for content writing.

It is always advisable to write fresh real content by yourself keeping all the SEO factors, keywords, tags etc. which usually takes 3 to 4 hrs for per post. But there is nothing wrong in giving it a try for a good article spinning tool. There are many tools with free trial or lifetime time free with limited features etc. if its worth you gain free traffic, backlinks, save time etc. if not there is nothing you lose. But you have to be extremely careful while selecting an Article Spinning tool.

I have come across many article spinning tools and find Content Professor is the best of all. It has got many features which many of the other software do not provide.

Lifetime Free Web based Article Spinner & Rewriter

Massive PLR search engine

Online Duplicate Content Checker

Apart from the above there are many Unique Core, Productivity, Quality and Statistical and Convenience Features that Content Professor Provides!

Pin
Content Professor is currently the best Article Spinning or Content Rewriting software available in the market.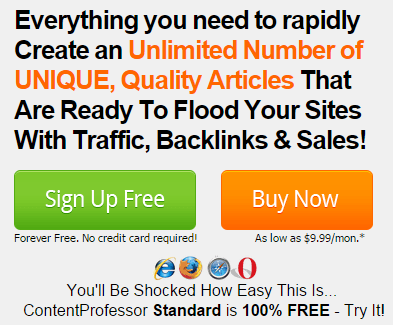 Pin