What is Amazon Affiliate Link Localizer ?
I presume you are aware of affiliate marketing in general and amazon affiliate marketing in specific. If not, I would suggest you to refer: Affiliate Marketing Success Blueprint 12 Video Modules.
Now let's start.
Link localization in simple words means 'redirecting the visitors to a country specific website'.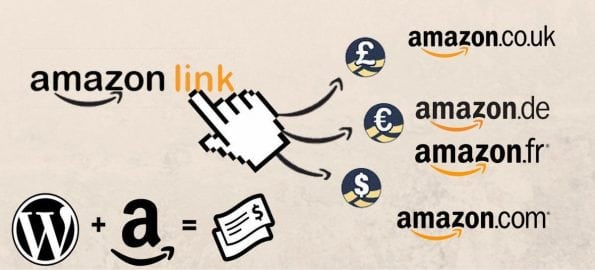 Pin
Link globalization or link localization is usually done based on the visitors' IP Geolocation. If a country specific website is available then the visitors will be automatically redirected to the local website rather than the global.
Something like people who access Google from India will be redirected to "Google.co.in" instead of "Google.com" unless they want to search in Google.com by changing the website link manually.
Amazon affiliate marketing is one of the largest and original methods of affiliate marketing. Amazon has the largest online shopping stores available in the word.
Like I said in Google's case Amazon also has country specific websites for around 12 countries. From a buyer's perspective country specific websites have its own advantages like Product prices can be seen in their local currency, faster shipping etc.




So now the question is how does it matter to the affiliate marketers?
The answer is simple: If you don't use Amazon Affiliate Link Localizer for your Amazon affiliate links then you won't get paid commission for the foreign traffic you drive to amazon websites from your blog/website.
Okay let me explain this with an example.
As I mentioned Amazon affiliate links are specific to each country! If you have registered/created your affiliate account with one country then the same Store ID (Affiliate link) will not work for the countries for making money.
Suppose you have registered with amazon.in (Amazon India website) and started publishing the affiliate links through your blog/website, when someone from India clicks on your affiliate link and buys a product then you get commission for it. However if the visitor is from Canada (Foreign traffics to your website) clicks on the same link will automatically get redirected to Amazon.ca (Amazon Canada website) and if they make any purchase you will not get paid commission for it, because you have not registered with Amazon.ca. That's the catch!
There comes the importance of amazon affiliate link globalizer
As of now amazon has 12 different country specific websites:
Step 1: – Register with all country specific affiliate accounts.
First and foremost is, go to 12 country specific amazon websites and start registering for the affiliate accounts.
Once you register with each country's specific affiliate accounts then you get unique Store ID for each country. Something like the below:
Your Amazon affiliate tracking ID + ends with -20, -21 or -22 etc.
askeygeek04-20
askeygeek00-21
askeygeek02-21
askeygeek0b-20
Step 2: Use Amazon Affiliate Link Localizer
There are multiple ways to do amazon link localization, do it manually, use plugins, web based link localization tools etc. Below are some of the commonly used tools.
Amazon Associates Link Builder – The official Amazon Associate Program Plugin
EasyAzon/EasyAzon Pro – The quickest and most commonly used thrid party plugin to create Amazon affiliate links.
Amazon Link Localization by BestAzon – Free* and easy to use without any signup
Amazon Affiliate Link Globalizer – Powerful A-FWD based link globalization.
Prourls – Web based simple and easy to use amazon link globalization tool
There are many more like the above. All these tools are enriched with lots of features to increase your sales and revenue. Some of them are completely free (when I say free it's with a clause) or comes with a basic version free and Pro/Advanced version with an additional Fees.
*Free clause – the traditional method of 3 (can be more or less) out of every 100 clicks you refer to Amazon website will be replaced with the tracking ID/affiliate ID of the plugin creator. That means if any sale happens out of those clicks then the plugin creator will get commission and not you.
So I would suggest you to start using these amazon affiliate link localizer tools only if you agree to the terms and conditions.
Somehow I'm not a great fan of using more plugins due to addition load on the website and page loading speed issues etc. Hence I use Prourls for Amazon affiliate link localization. Its a web based link localizer and no need to install any additional plugins to your website.
Follow the simple steps below to start using this tool.
Create your account with Prourls
Add all Amazon Affiliate links
Generate Link (One link for all amazon country specific websites)
Use the New Link in your blog/website and start making money from all the foreign traffics too. All the best for your amazon affiliate Global career 🙂 Please let me know if you need any help in amazon affiliate link localizer tools.